PACKAGE DETAILS & PRICES
Less cost than 1 welcome drink - Hours of fun and pleasure - Unique memories
INCLUDED IN THE PACKAGE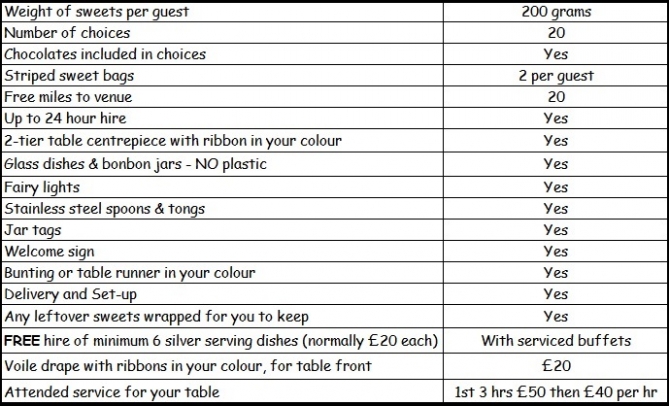 Choose how many guests to cater for - Discounts for larger parties !!!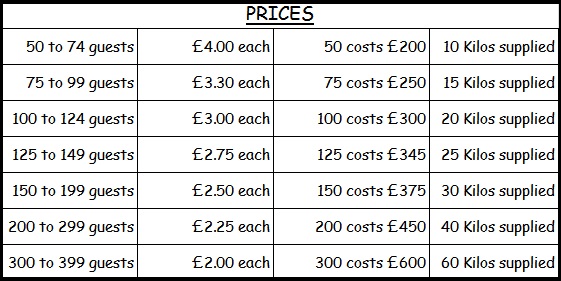 We are a professional company with £2m public liability insurance and we are registered with the local council environmental health department who inspect our premises to guarantee food safety standards.
If you require a different package or if you are catering for a larger party - please contact us for a quotation
We can work to your theme
Options available, including Vintage Tea Parties with mix and match vintage china & glassware
Alice in Wonderland & the Mad Hatter's Tea Party - Ye Old Sweet Shop - Butterflies - just let us know what you have in mind.
Please note: All the above, except for the sweets and bags are hire only.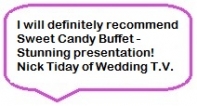 Personalised bag labels and jar tags are available as optional extras.
Less than the cost of 1 welcome drink - hours of fun and pleasure - unique memories
All bank holidays and some December dates are subject to a 20% surcharge
When you consider the cost of a welcome drink, or canapes - then realise you could have the sweetie banquet table for hours for the same price per guest or even much less!! Which would you say offers better value for money - and more fun too!!
The table below is a Sweet Candy Buffet table with 20 varieties presented in 55 glass dishes & bonbon jars for 200 guests at the Masquerade Ball at Northampton University. Silver dishes were supplied too.
40 Kilograms of sweets and chocolates supplied (200 grams each). Cost £450.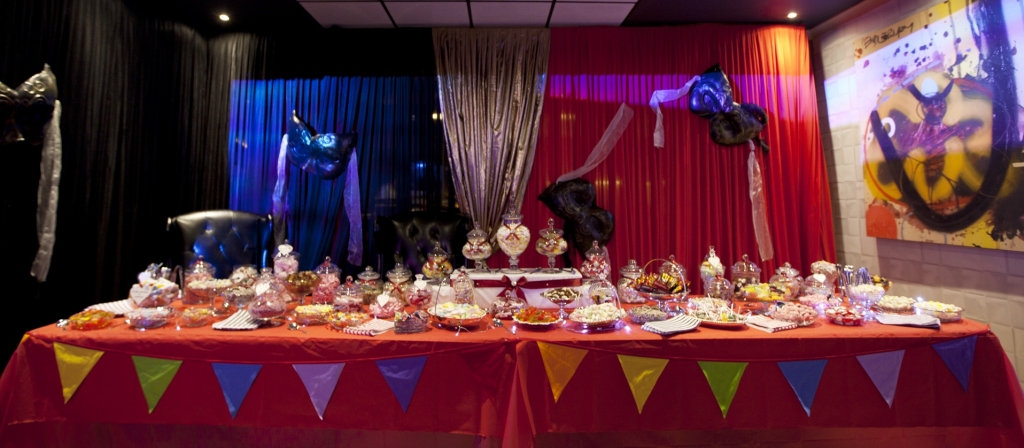 The table below is a Sweet Candy Buffet table with 20 varieties in 43 glass dishes & bonbon jars for 100 guests at a wedding at Nailcote Hall, Solihull. More options available - let us know what you have in mind.

Delivery, decorate, set-up & collect service
We do it all for you. We deliver your sweets and candy buffet to your venue, decorate your sweets buffet table with 2-tier staging decorated in your colours, a choice of bunting designs or an organza swag with ribbons in your colours,jar ribbons and tags, fairy lights and table sprinkles. We set it all up for you, clear it all away later, wrap any remaining sweets to leave with you, and take the empties away. We supply 2 sweet bags for each guest and over 40 stainless steel spoons and tongs. Your candy buffet can be left with you and collected later, or we can stay and look after the table for you, keeping it tidy and helping the little ones fill their bags (if they want us to!).
If we are servicing your table for 3 hours we only charge mileage (if applicable) for 1 trip and, we will use some real silver serving dishes for some of your sweets choices.
We will use a mixture of traditional sweet jars and open dishes in a variety of shapes and sizes to best display your sweets choices and to make sure they are easily reached by guests. We do not provide a table as your venue will be able to provide these for you.
Silver dishes
We can present some of your sweets choices in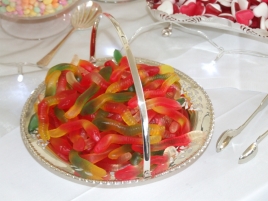 gorgeous silver dishes if you wish. If we are servicing your buffet this is free of charge. Otherwise there is a £20 hire charge for each silver dish supplied.
If you are looking for something more lavish and spectacular please visit our sister website www.candysweetbuffet.co.uk which offers you 30 varieties all presented in real silver, crystal & cut-glas dishes and bonbon jars with silver serving tongs and spoons.
We require a security bond to be paid 1 month before your event, against breakages and/or loss of items provided. This will be refunded to you after the empty dishes, jars, swag, bunting, ribbons, labels, tongs, spoons and scoops have been inspected and accounted for, if there are no damages or missing items.
Wedding favours
If you are looking for wedding favours for your wedding breakfast tables too, why not consider linking in to your candy buffet with a sweety favour - Choose sweety bags or lollies and candy canes wth no artificial colours or flavours - all natural - Yum! Please ask for details.