Choose 20 Varieties for your Sweets and Candy Buffet Table
More Variety - More Fun!! ♥ Party or Wedding Candy Table
Wedding sweets buffet - Corporate parties - Birthdays - Balls - Proms - Christenings - Anniversaries
Your table will be custom decorated in your colours with a 2-tier centrepiece. 2 Sweet bags each, stainless steel tongs and spoons supplied. A whopping 200 grams per guest is supplied - a 12' long sweets table for 100 guests will have 20 Kilograms of your choices presented in over 40 stunning glass dishes and bonbon jars!!
Wedding favours with a difference ♥ Special Party Celebrations ♥ Fun Entertainment
♥ Less cost than 1 Welcome drink ♥ Hours of Fun and Pleasure ♥ Unique Memories ♥ Up to 24 Hr Hire
Enjoy a real sweets & candy buffet table with loads of choice to thrill & impress your guests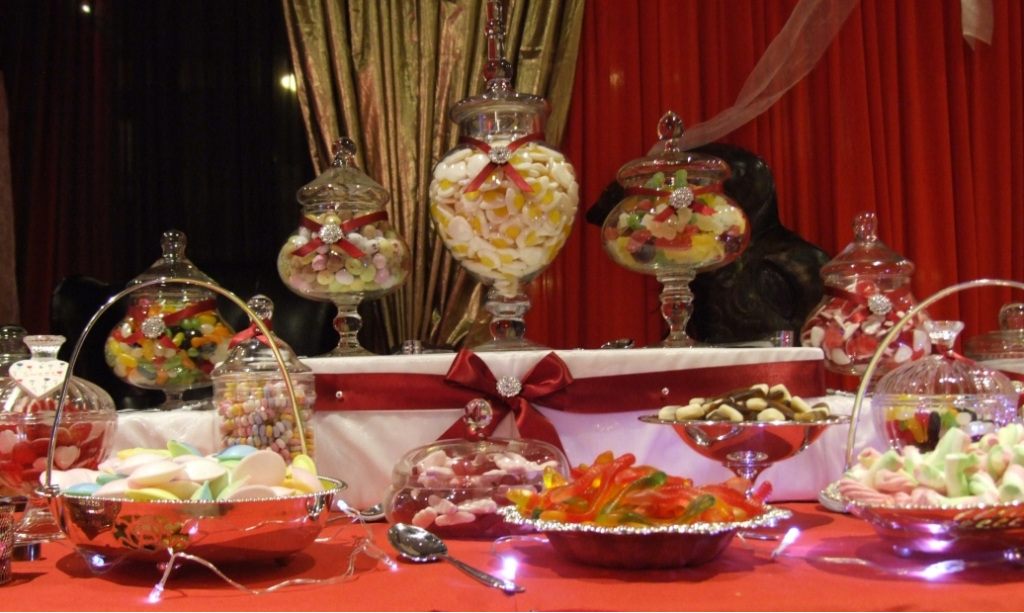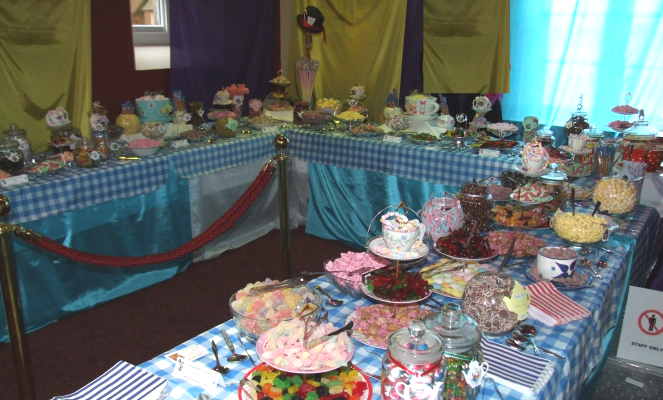 All celebrations are special and your wedding day is the most special day where you want everything to be perfect and a specialised wedding sweets buffet table is one of those finishing touches and probably the icing on the cake! Your sweets table will be decorated in your colours with ribbons and either an organza swag or bunting - your choice. For parties of 100 or more, your 20 selections will be presented in over 40 stunning glass dishes and bonbonjars along your 12' long table, selected especially for you from our vast collection of over 300. We will service your table if required.
We can work to your theme
options available, including Vintage Tea Parties with mix and match vintage china & glassware
Alice in Wonderland & the Mad Hatter's Tea Party - Ye Old Sweet Shop - Butterflies - just let us know what you have in mind.
See GUEST REVIEWS and BUFFET IMAGES here. £50 deposit saves your date - CONTACT US
We are a professional company with £2m public liability insurance and we are registered with the local environmental health department who inspect our premises to guarantee food safety standards.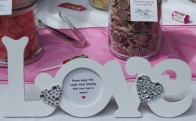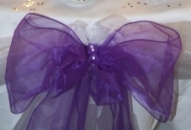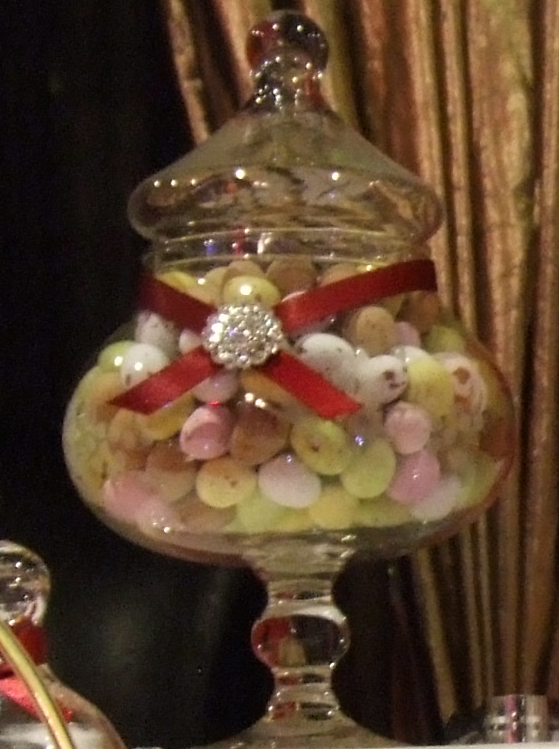 ♥ SWEETS ♥
Choose your favourite Sweets, Chocolates, Candy & Lollies for your Candy Table
We offer all your old childhood favourites - you choose from over 100 varieties like Fizz Wizz Popping Candy, Flying saucers, Chocolate mini eggs, snowies, cherry lips, white mice. strawberry laces, skittles, cola bottles, rhubarb & custard, pint pots, pink pigs, fizzy jellies, fried eggs, jelly cherries, foam bananas, jazzies, jelly babies, - the list is endless. You can also have lots of individually wrapped items like Wham bars, Curly Wurlys, Love Hearts, Dip dabs, Sherbet Fountains and straws, Drumstick & Chupa chup lollies, candy lipsticks, whistles & necklaces etc.
Why settle for less? If we don't have your favourites we will get them for you. if you want more than 20 varieties for your candy table - no problem. Your special day should be how YOU want it and we would love to help you achieve your dream.
MORE VARIETY - MORE FUN
£50 Deposit secures your date - Call Ann on 07809 722335
Discounts for larger parties - See PRICES page


Less cost than 1 welcome drink - more fun & variety (& less messy) than a chocolate fountain
We will work with you to achieve your dream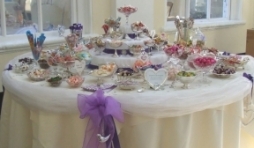 *****
If you are looking for something truly lavish and spectacular please visit our sister website www.candysweetbuffet.co.uk which offers you a stunning vintage theme with 30 varieties all presented in antique, real silver, crystal & cut-glass dishes and bonbon jars with silver serving tongs and spoons and lots of sparkle.
*****
Entertain your wedding or special party guests with a dazzling display of oodles of yummy sweets and chocolates on your lavish candy buffet table.
Use for Canapes, Favours, Dessert, Entertainment - or just for Fun!!!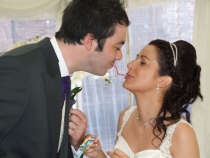 Delivery, decorate, set-up & collect service
We do it all for you. We deliver your sweets and candy buffet to your venue, decorate your sweets buffet table, set it all up for you, clear it all away later, wrap any remaining sweets to leave with you, and take the empties away. We supply 2 sweet bags for each guest and over 40 stainless steel spoons and tongs. Your candy buffet can be left with you and collected later, or we can stay and look after the table for you, keeping it tidy and assisting guests.
Full package and price details on our prices page
You can choose to have modern or vintage glass dishes and jars or a mixture of both for your sweets table. and we will select from our vast collection of over 300 vessels to best display your sweets choices and to make sure they are easily reached by guests. If you would like more than 20 sweets choices for your candy table just let us know.
£50 deposit secures your date Call Ann on 07809 722335
If you are budget conscious but still want loads of yummy sweets on your candy table, why settle for around 10 choices or even less? This packages offers you 20 varieties minimum, of sweets, candy and chocolates, all in a variety of gorgeous dishes and jars providing a stunning display to really 'WOW' your guests.
Call Ann on 07809 722335 or send us an email from our contact page. If you have any queries please call us, we will make your sweets buffet unforgettable.
Sweets and candy tables are very popular now and a great thrill for guests when they see the colourful display of all their old favourites. We offer you the opportunity to choose your own sweets and candy - or we can do it all for you if you prefer. Either way you can be sure of a stunning display. Call it your own candy bar, candy store, candy shop or sweet shop - in fact it really is your very own version of 'Ye Old Sweet Shop' presented for your guests to delight in. All your own choices of sweets, candy, chocolates, lollies and much more for a special event or wedding party banquet.
A wedding sweets and candy buffet is a good idea as an alternative to a chocolate fountain which is totally yummy but is a bit more messy and does not offer as much choice as a sweet buffet table with 20 varieties - and nor do you get to take home any uneaten goodies! Sweetie buffet tables can also be an interesting alternative to canapes which are quite expensive, and gone in a flash. Your party or wedding sweets table can be around all day if you wish, allowing guests to mingle and nibble to their hearts content. You could let guests indulge while you are having your wedding photographs taken, the sweets buffet is certainly an excellent ice-breaker, getting everyone chatting about all their favourites and 'blasts from the past'. With 20 varieties you are bound to delight everyone.
When you consider the cost of a welcome drink - then realise you could have the sweet candy buffet table for hours!! Which would you say offers better value for money - and more fun too!!
Many brides choose to offer their wedding sweets buffet in the evening to bridge the time gap between the wedding breakfast finishing and the evening entertainment starting. Brides also like to offer a sweet buffet table for wedding favours sometimes. Sweet bags can be personalised if you wish - you could even place them on the wedding breakfast table with a message and introduction/directions to the sweets buffet table.
Whether you are organising a birthday celebration, wedding, prom party, special anniversary or family get-together, or even a Christmas party - whatever you are celebrating, a well planned sweets and candy buffet table is a wonderfully entertaining feature which you and your guests will remember for a long, long time.
All celebrations are special and your wedding day is the most special day where you want everything to be just right and a UNIQUE specialised wedding sweets buffet table is one of those finishing touches and probably the icing on the cake!
Enjoy!!
A Sweets Shop & Candy Store on a Candy Table
Wedding Sweets Banquet * Ye Old Sweet Shop * Pick n Mix Sweets, Candy & Chocolates
Party or Wedding Sweets & Candy Buffet Table with 20 varieties for you to choose
Weddings, Birthdays, School Proms, Christenings, Corporate, Any Special Event or Party
Candy table - Sweets buffet
Less cost than 1 welcome drink for hours of fun and lasting memories
We can supply our sweets and candy buffet tables to Ashby, Birmingham, Burton-on-Trent, Chesterfield, Corby, Coventry, Derby, Grantham, Hinckley, Leamington spa, Leicester, Lichfield, Lincoln, Loughborough, Luton, Lutterworth, Market Harborough, Melton Mowbray, Newark-on-Trent, Northampton, Nottingham, Nuneaton, Oxford, Redditch, Rugby, Rutland, Sheffield, Solihull, Stafford, Stratford-on-Avon, Stoke-on-Trent, Sutton Coldfield, Tamworth, Walsall, Wolverhampton, or anywhere in the UK if you are willing to pay travel expenses - contact us for a quote.